The Severn Estuary has the second highest tidal range in the world. Last Wednesday and Thursday were the perigean tides for the autumn – meaning that point in the year (another in the spring) when the greatest difference can be observed due to the moon's closeness to the earth. In this case, nearly 14 metres difference between low and high tides. At the Severn Estuary, where I've spent a lot of time watching the water, I love the dramatic effect of these extremes, and this week I went at night to try some shooting in the dark.
Baleen Bridge (above) and Pencil Bridge express the differences I also feel between the Second Severn Crossing and the old Severn Bridge. The first is a construct of concrete lumping through the waves to Wales, something about it is imposing and solid, a transverse trunk of manland. It seems to filter the elemental water and air through a baleen wall of stone. It's humanity solidified in vehicle, crane and train hidden on the underside of the road surface. Pencil Bridge is, by contrast, a thin line of luminescence, white-winged over the world, with the arch of a transport that is more spiritual than earthy. You feel this when you drive over it, it's incredibly uplifting. This is humanity etherealised in space, light and curve.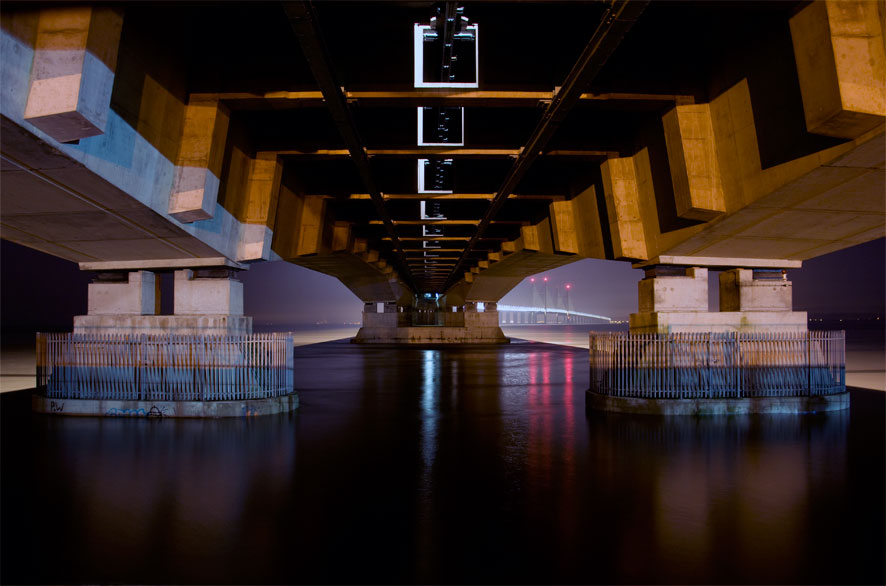 As for a high tide, this is for my Mum, that butterfly view under the canopy at a morning and evening swell…
Header image: Baleen Bridge, 2012, by Sheona Beaumont.